MOREHEAD CITY— The fellowship hall of Glad Tidings Church was filled with volunteers stacking bright red and green shoeboxes Tuesday. The boxes weren't filled with shoes, but with a variety of toys, school supplies and clothing.
The church serves as a regional collection center for Operation Christmas Child, a ministry of the international Christian organization Samaritan's Purse, which ships boxes filled with toys and other items to needy children around the world.
National Collection Week for OCC continues through Monday.
Gwen Davis of Beaufort, logistics coordinator and central drop-off team leader at Glad Tidings, said the coronavirus pandemic is having a devastating impact on children across the world and simple gifts make a big difference.
"Now more than ever, children need hope and a gift-filled shoebox can let them know they're not forgotten," Ms. Davis said.  "Even in a pandemic year, you can touch lives by packing shoebox gifts."
That advice seems to be getting out, as many churches and individuals are bringing vehicles and trailers filled with boxes to the church.
Davis First Baptist Church members hauled a trailer containing more than 400 boxes to the center on Tuesday.
"We shop year-round for items, and we're crafty and enjoy making items for the children," Sherry Murphy, a co-project leader for OCC at her church, said. "These boxes go to children who need them and it's also a chance to share the gospel. That's the greatest gift."
Davis First Baptist Pastor Daniel Melton said his small congregation enthusiastically supports the drive year-round so he wasn't surprised members packed so many boxes.
"It's an incredible experience that during (the pandemic) we're able to help children around the world and share the gospel," Pastor Melton said.
OCC logistics coordinator Archie Davis said the Glad Tidings center has been busy since opening Monday.
"A lot of churches are saying their congregations are packing more boxes this year. We received over 600 boxes Monday and we're off to a good start. I think people are wanting to pack boxes this year because it gives them a sense of normalcy and helps children."
Glad Tidings serves as a regional collection center for a five-county area consisting of Carteret, Craven, Onslow, Jones and Pamlico counties. Additional regional collection centers are also set up at Tabernacle Baptist Church in New Bern and New River Baptist Association in Jacksonville.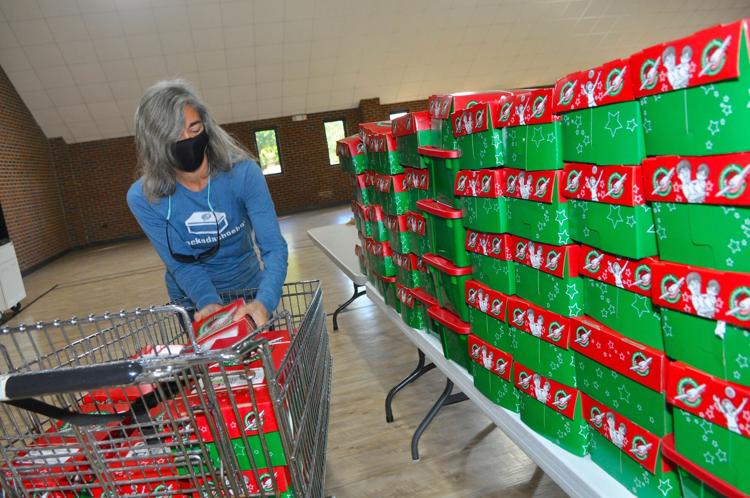 In addition, two county relay centers for those not wanting to travel to Morehead City are set up at New Hope Baptist Church in Beaufort and Cape Carteret Baptist Church.
Due to COVID-19 restrictions, this year's drop-off looks a little different. All drop-off locations are curbside.  Volunteers wearing a mask greet donors and offer to unload the shoeboxes so donors can remain in their vehicles if they desire.
"We have a touchless way of leaving donor contact information and the number of shoeboxes that are dropped off," Ms. Davis said.
Longtime OCC volunteer Connie Garcia was among those helping Tuesday at the Glad Tidings site.
"I've been doing this for at least 10 years because it brings Christmas to life," she said. "These are all my children. If packing boxes is going to cause joy anywhere, it's worth it. Knowing that children will also learn about Jesus brings joy to my heart."
Those wanting to pack boxes and drop them off during National Collection Week can do so at one of the following locations:
Glad Tidings Church, 4621 Country Club Road: Saturday, 10 a.m. to noon; Sunday, 1 to 3 p.m.; and Monday, 10 a.m. to 2 p.m.
New Hope Baptist Church, 2370 Highway 70, Beaufort: noon to 2 p.m., Saturday; Sunday, 12:30 to 3:30 p.m.; and Monday, noon to 2 p.m.
Cape Carteret Baptist Church, 101 Anita Forte Drive, Cape Carteret: Saturday, 9 a.m. to noon; Sunday, 3 to 5 p.m.; and Monday, 9 to 11 a.m.
Once boxes are received at the regional collection centers, they are transported to eight processing centers in the nation. From there, they are shipped to nations around the world.
Volunteers and supplies will be available at the Carteret County collection centers to assist those needing help with boxes. Also, information and labels can be obtained at samaritanspurse.org/occ.
As well as physically packing boxes and dropping them off at one of the centers, people can also "pack" boxes using a computer or mobile device.
Those interested in packing a box using a computer or mobile device can go to samaritanspurse.org/occ. Select toys and gift items, write a note of encouragement and "pack" them in a shoebox.
Using special tracking technology, participants can follow their box to discover where their gift is delivered by using the donation form found at samaritanspurse.org/occ.
The cost to ship boxes is $9 per box.
For more information about how to participate in OCC, call Ms. Davis, 252-725-0435.
 Contact Cheryl Burke at 252-726-7081, ext. 255; email Cheryl@thenewstimes.com; or follow on Twitter @cherylccnt.